Personal Goal: finish the 2013 NYC Triathlon on a fixed gear bicycle. No goals for time – JUST FINISH!
I won't go into much of my reflection of the triathlon and my training, that's for another day.
Training is over and all my bike is setup at the transition area. It was a gloomy overcast the day before, but there was a promise of sun in the forecast.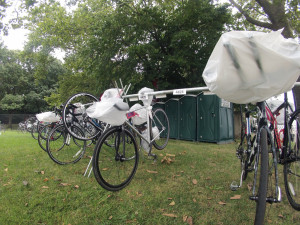 After setting up my bicycle, I took a guided tour of the course; it cleared everything up! From where to go after the swim to get my bike and then later from bike to run. It sounds so simple, but without actually walking the course, I would have felt really uncomfortable knowing exactly where to go.
Race Day
On July 14th, 2013, my alarm went off at 3:30 AM. My brother and I got packed up and out the door by 4:00 AM to catch a cab and head to my transition area (red). It was dark and my half of the transition area was not lit up. I did as much setup as I could in the dark and we walked up to the swim start.
Despite how tired I was, I got to see the first transition group start which made me a little more comfortable. For some reason in my head, I thought the barge we jumped off was ten or twenty feet above the water. I was not excited about the thought of losing my goggles at the start of the swim!
Swim/T1
Five minutes before the second transition got started, I got into my corral and lined up for the jump. By the time I got to the barge, I was only worried about my ear plugs and goggles – they better not pop off! The horn went off, I jumped in, and swam freestyle.
I did not realize how tough it was to swim in open water and the opaque water screwed with my rhythm since I was always wanting to see where I was going. Swimming in a pool with visibility was much more comforting. When I looked up to see the 300 meter mark, I was completely out exhausted.
I backstroked the rest of the way, switching to freestyle when I caught my breath. It was quite relaxing. Toward the end of the swim, the lanes narrowed and got really shallow. Three feet of water with disgusting muck at the bottom did not help the fact that there were others all around me like a salmon run.
After getting pulled out, there was about at 150-200 meter walk from the swim exit to the transition area. My pansy feet were hurting from walking on the concrete that was littered with debris. I walked, others jogged. I had one goal: just finish.
Upon arrival of T1, I struggled to get out of my wetsuit and had to put on my water bottle cage on my handlebars because of the lighting issue earlier in the day. I fueled up, caught my breath, got ready mentally, stretched a bit, and finally walked Contessa out of the transition area.
Bike/T2
After hopping on the bike, there was a "steep technical turn and climb." I was told to leave it in the lowest gear, possible, but I was riding fixed! I blasted to the top, passing a dozen people on super low gears, spinning their legs out. Lots of cheers after I got to the top with a "GO FIXED!" cheer too!
Just after the climb, there was the 79th street circle right by the Henry Hudson Parkway. There were lots of bumps and patches on the road: DISGUSTING.
Fallen water bottles and broken sunglasses were all over the place.
When I finally entered the freeway, almost everyone I passed during the climb flew by me. Talk about being humbled. I had a little trouble getting my Garmin setup, but right after I got it started, I saw a Texas flag draped on a camp chair. Ben, Shane and Chi were there cheering me on!
For the most part, it was nice, but hazards were equally bad. Lots of people pointing to hazards along the way. I never saw anyone fall and no accidents around me. The "worst" was on the way back south along the freeway when someone's chain popped off. I offered to help, but he said it happened all the time – strange.
Anyway, there were lots of long rolling hills. I was not elevation prepared for the massive elevation. Apparently, I have super powerful thunder thighs.
They're just not good for long hills with medium grade. There are two technical turns at the northmost and southmost part of the bike path. The lane narrows significantly and I was really glad I was not near a large group. I can see how dangerous this could get for the super competitive people.
I used up the entire outside lane and kept a good amount of speed. I even passed people on turns – that was fun. While climbing the hill after the north turnaround, another biker realized I was riding single speed and asked whether I was riding fixed. He gave me props, I gave him props, and then we hammered up the next hill.
Before I knew it, the I was riding back into T2. The entrance was a steep grade down, so others slammed on their brakes. I had to skid stop in order to avoid a crash. More people cheered my on and one dude yelled out, "the Texas guy is riding fixed!" I grinned, hopped off my bicycle, stood up tall, tried to take my first step and jell-o. It took a few steps to get my legs straightened out.
I switch shoes, fueled up again, and hydrated a bit. I walked through the transition as everyone around me were already jogging. I had one goal: just finish.
Run
I crossed 72nd street and there were lots of people, lots of cheering, and lots of motivation! It was great, lots of people recognize the great shape of Texas on my jersey! I jogged for a bit, walked for a bit, and heard a voice cheer my name in the crowd.
It was Anthony on his bike in the sideline. I jogged over to give him a high five, walked a little bit more and as I neared 72nd and Central Park West, I saw a Texas flag waving. Dammit, now I have to jog a little. I saw all of my friends there cheering me on so I slipped over to give them high fives! FREAKING AWESOME! =)
Jog-walking along the west side of Central Park had shade, but by the time I got to the east side, there was little to no shade. It was tough, so I walked for a bit, but I knew I was not going for best time. I did not give a fuck; I had one goal: JUST FINISH.
It was the last leg – I jogged all the way to the finish line. Once again, I saw my friends all cheering me on with all their posters too. I went for another wave of high fives and did not realize they gave me a Texas flag to hold it until I found myself waving it around.
I crossed the finish line!!!
My Results
I finished at 11:39:22 AM, just in time for lunch!
If I had to give any advice to anyone who plans to do any triathlon, it would be to train. It sounds so simple, but the rigorous schedule eats up into your life. If possible, get with a team or just another person to help with motivation.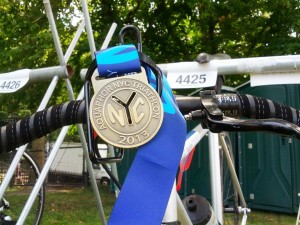 Olympic Triathlon
Division: Male 30-34
Division Place: 413/433
Gender Place: 2,190/2,374
Overall Place: 2,954/3,420
Total Time: 3:35:51
Swim (0.9 miles / 1500 m): 25:15 – 1:31/100 yards
T1: 14:10 (did I fall ASLEEP?!)
Bike (24.8 miles / 40 km): 1:31:20 – 16.3 miles/hour
T2: 5:18
Run (6.2 miles / 10 km): 1:19:49 – 12:52/mile
Thank You, Everyone!!!
Mom and Dad – supported me in everything I do in life
Ben – my brother, woke up early as hell to support me from start to finish
Shey – biking coach, also convinced me to get bicycle
Anthony – biking buddy
Mari – inspiring me to do a triathlon
Tom F and Ellen – long distance biking buddies
Jenn and Chau – running buddies, even if it was a couple times
Mai – running tips and making Ben fly up to support me!
Ginette – swim coach, even if it was just once at a horrible lap pool!